| | |
| --- | --- |
| | |
| | ROBERT WILLIAMS BUCHANAN (1841 - 1901) |
6. When Knights Were Bold - The Films

When Knights Were Bold was filmed three times during the silent era and once as a 'talkie'. The following information is taken from imdb and the British Film Institute:

WHEN KNIGHTS WERE BOLD (1916 - UK)
Script by Frank Miller, directed by Maurice Elvey
Produced by London Film Company
Cast:
James Welch Sir Guy de Vere
Janet Ross Lady Rowena
Gerald Ames Sir Brian Ballymote
Hayford Hobbs Widdicombe
Gwynne Herbert Isaacson
Philip Hewland Barker
Bert Wynne Whittle
Edna Maude Aunt Thornridge
Marjorie Day The Maid
Douglas Munro
BFI synopsis: " Comedy in which commoner inherits title and wins Lady after a dream set in medieval times."

The Birmingham Daily Mail (31 October, 1916 - p.5)

Those who have seen James Welch in the farce "When Knights Were Bold" should not miss the film of this merry play and the droll comedian at the New Street Picture House, and those who have not seen the play should certainly make a point of seeing the film. Last night crowded audiences followed the quaint adventures of Sir Guy de Vere with the utmost amusement and entertainment, the interest being accentuated by the fact that the interior and exterior of Warwick Castle and the ruins of Kenilworth formed the background of the animated and highly diverting scenes.

___

The Aberdeen Daily Journal (18 November, 1916 - p.3)

THE PICTURE HOUSE.

A four reel screen version of Charles Marlowe's whimsical farce, entitled "When Knights were Bold," with James Welch in his original part, has been produced by the London Film Company, and will be shown at the Picture House, 181 Union Street, on Monday, Tuesday, and Wednesday next. Sir Guy de Vere, last of a long line of de Veres, and owner of a romantic castle, is in love with the Lady Rowena, a romantic-minded lady, who rejects his suit because she wishes her husband to be a man in whom all the glories of the past still live, and Sir Guy is a very modern young man. Isaac Isaacson, a wealthy Jew, desires to secure Sir Guy as a husband for his daughter Sara, and bribes the hard up Sir Brian Ballymote to get him an introduction. The three are invited to Beechwood Castle, and to remove Rowena as a rival to Sara, Sir Brian makes love to her. Sir Guy, meanwhile, has been out shooting, and comes home with a dreadful cold, so when the guests go in to dinner, he is reclining with his feet in a mustard bath before a blazing fire in the hall. Presently he falls asleep and dreams of the good old times "when knights were bold." Remembering his dream, and that his guests are still at dinner, he decides to give Lady Rowena her fill of "the good old time." Sir Brian seeks refuge down a chimney, from which the surprised guests presently see a grimy and dishevelled figure appear. He is eventually kicked out, and Sir Guy gives up his little joke, and becomes engaged at last to Rowena, who now declares that she prefers the present day to "the good old times when knights were bold."
Other items on the Picture House programme for the first half of next week also includes:—"Industrial India" (interest), "The Youngest in the Family" (comic), "Just a Few Little Things" (comedy), Current Events, etc., etc.

___

The Aberdeen Evening Express (18 November, 1916 - p.2)

"From Log Cabin to White House" runs the title of a well-known biographical work, and this phrase seems aptly to describe the transformation that takes place in the circumstances of Jimmie Welch, prince of comedians, in his film career. This week James is a hero—more or less—of the circus ring; next week we shall find him moving in the most aristocratic circles, amid scenes that have for a background those magnificent relics of mediæval times, Warwick and Kenilworth Castles. As Sir Guy de Vere in that brilliant farce "When Knights Were Bold," Mr Welch adds another to his list of film successes. Funny as this diminutive knight, clad in shining armour, was on the stage, he is even funnier on the screen, where fuller scope is provided for his humorous antics. Supporting Mr Welch in the film version of the farce are Mr Gerald Ames as Sir Brian, Mr Douglas Munro as Isaacson, and Miss Marjorie Day as the pretty maid. As in all London Film productions setting and photography are excellent. "When Knights Were Bold" will be screened at the Picture House next week.
| | |
| --- | --- |
| | |
| | |
[From The Aberdeen Evening Express (20 November, 1916 - p.4).]

The Tamworth Herald (17 February, 1917 - p.5)

THE GRAND.

The famous play, "When Knights were Bold," was admirably screened at the Grand on Monday, Tuesday and Wednesday. The main features of this popular production have been carefully filmed, the hero James Welch being seen at his best. Other pictures of merit went to make up a first class entertainment. This week-end there is a capital five-part drama, "Sunshine Molly" (instead of "Me and Me Moke," which is coming next month), and another instalment of the fascinating serial "Liberty."

_____

IL CAVALIERE DEL SILENZIO (1916 - Italy)
Directed by Oreste Visalli
Produced by Aquila Films
Cast:
Giulio Del Torre
Signor De Mori
Jeanne Nolly
Leo Ragusi
Claudia Zambuto
Gero Zambuto

_____

WHEN KNIGHTS WERE BOLD (1929 - UK)
Directed by Tim Whelan
Produced by British and Dominions Film Corporation
Cast:
Nelson Keys Sir Guy de Vere
Miriam Seegar Lady Rowena
Eric Bransby Williams Sir Brian Ballymore
Wellington Briggs Widdicombe
Lena Halliday Lady Walgrave
Martin Adeson Barker
Hal Gordon Whittle
Edith Kingdon Aunt Thornridge
E.L. Frewyn Dean
Fanny Wright

The British and Dominions Film Corporation was set up by Herbert Wilcox and an advert for the company appeared in The Daily Express on February 15th, 1928. Wilcox also went on to produce the 1936 musical version.
[From The Daily Mirror (5 April, 1929 - p.13).]
| | |
| --- | --- |
| | |
| | |
[From The Hull Daily Mail (30 December, 1929 - p.4).]

Burnley Express and Advertiser (11 January, 1930 - p.5)

NEW SUCCESS AT THE GRAND.

Everyone who has seen that uproarious comedy, "When Knights were Bold," will want to see the film version, which has just been released, and which will be at the Grand next week. Many London critics have acclaimed it as one of the few films funnier than the original play, and all are agreed that it is clever and amusing entertainment. Nelson Keys is a comedian who has won fame on both sides of the Atlantic, and his performance in this picture is really brilliant. For the benefit of younger patrons who have not seen the play, it will perhaps be as well to give an outline of the story. It concerns a young and rich nobleman, whose only trouble is his relations. He is glad that he comes of an ancient and glorious line, and he is pleased to succeed to the baronetcy; but he is glum when he thinks of his relatives. Any bright young fellow would be depressed with such a set of relations, though Lady Rowena, a very distant relation, helps him to avoid becoming morbid. Needless to say, Lady Rowena is young and charming. The young Sir Guy dreams a dream. He is taken back into the good old days when knights were bold, and in true knightly fashion, overcomes his enemies to save his "faire ladye." The dream has a startling effect on his subsequent conduct, and the film ends in most delightful fashion. Mr. Keys has been given admirable support from a well-chosen cast, and the settings throughout are elaborate and effective. We can be justly proud of this as a British picture.
"Not Quite Decent," which will be shown in support, has a much better moral than its title would suggest. It is also very entertaining, telling the story of a mother who makes herself out as unworthy in order that he daughter might not make a big mistake. June Collyer and Louise Dresser are admirable in the leading roles.

___

The Dundee Courier (14 January, 1930 - p.9)

THE KING'S.

"Broadway Babies," a film dealing with theatrical life and happenings behind the scenes, heads the programme of the King's Theatre.
Alice White, one of the youngest film stars, makes a pretty leading lady. She is the most attractive member of a trio of dancing girls who set out to win fame on Broadway.
She sings and dances well, but in talking, as in the case of many others of the cast, much of her smart Yankee touches slip past without notice, the dialogue being none too clear at times. her companions are Sally Eilers and Marion Byron.
Charles Delaney does not speak as distinctly as one might expect this fine actor to do. He is the young stage producer who is engaged to the "Baby of Broadway."
There are many entertaining theatrical scenes, and the principal songs are "Broadway Baby Dolls," "Waiting and Waiting for Love," and "Jig, Jig, Jigaloo."
The silent film, "When Knights were Bold," is a clever comedy, with Nelson Keys as the bold knight. He does many queer things which are both bright and amusing, and the scenes where he dreams he fights the "army" for his enemy are exceptionally funny. It is adapted from Charles Marlowe's stage play. Miriam Seegar as Lady Rowena is the principal lady and Eric Bransby Williams is the villain.

___

Western Daily Press (25 February, 1930 - p.3)

Premier.

"When Knights Were Bold" was an undoubted success on the stage, but as a film it is almost overpowering in its farcical humour. It is the chief item at the Premier Picture House on Tuesday and Wednesday. nelson Keys, who plays the chief role, has never been more amusing. There is in the film, which is wonderfully photographed, a glorious mediæval battle at the castle built specially for that purpose at Stanmore, where knight in armour and hundreds of men-at-arms storm the battlements. Nelson Keys is supported by Mirian Seegar, a pretty and clever actress, and Eric Bransby-Williams. A fine drama, "The Silent Sentinel," is the other attraction. During the latter half of the week Matheson Lang leads an accomplished cast in "The Blue Peter," and Jack Mulhall plays with typical abandon in "Actress and Angel."

___

Miriam Seegar, who played Lady Rowena in the 1929 film of When Knights Were Bold, died on 2nd January, 2011 at the age of 103. There is an obituary on The Telegraph site and an interview with the actress includes the following information about When Knights Were Bold:

"... After high school, when I was 18, I went to London where I acted in an American play, 'Crime' ('28), that was running over there."
While in England, Miriam made her screen debut. "I did three pictures, mostly silently. The third one, 'When Knights Were Bold,' (shot in '28; released in '29) was directed by Tim Whelan. We went back later and did dialogue sequences, so it was never released as a silent. Tim and I began to date, and in 1931 we were married!"

On the It's not just Michael Powell site, this photo carries the description, 'Miriam Seegar in When Knights Were Bold' but no further information is given.

WHEN KNIGHTS WERE BOLD (1936 - UK)
Script by Douglas Furber and Austin Parker, directed by Jack Raymond
Musical Numbers by Harry Perritt, George Windeatt, Maurice Sigler, Al Goodhart, Al Hoffman
Cinematographer: Freddie Young
Produced by Capitol Film Corporation
Cast:
Jack Buchanan Sir Guy De Vere
Fay Wray Lady Rowena
Garry Marsh Brian Ballymote
Kate Cutler Aunt Agatha
Martita Hunt Aunt Esther
Robert Horton Cousin Bertie
Aubrey Mather The Canon
Aubrey Fitzgerald Barker, the butler
Robert Nainby Whittle, the 'boy'
Moore Marriott The Tramp
Charles Paton The Mayor
Barry Fitzgerald
Terry-Thomas
Michael Wilding
Runtime: 76 min
BFI synopsis: "Sir Guy de Vere inherits his father's estate only to be greeted with hostility from the rest of the family when he goes to live in the family's ancestral home."

The 1936 version of When Knights Were Bold is available to watch or download from the Free Classic Movies site.

Fay Wray and Jack Buchanan. Fay Wray as Lady Rowena.

Jack Buchanan as Sir Guy in full armour.

The 1936 film contained several musical numbers: 'I'm Still Dreaming' and 'Let's Put Some People To Work' by Al Goodhart, Al Hoffman and Maurice Sigler, and 'Forward, Onward We Go'.

Jack Buchanan singing "Lets Put Some People To Work" from When Knights Were Bold.

___

The Daily Mirror (31 October, 1935 - p.8)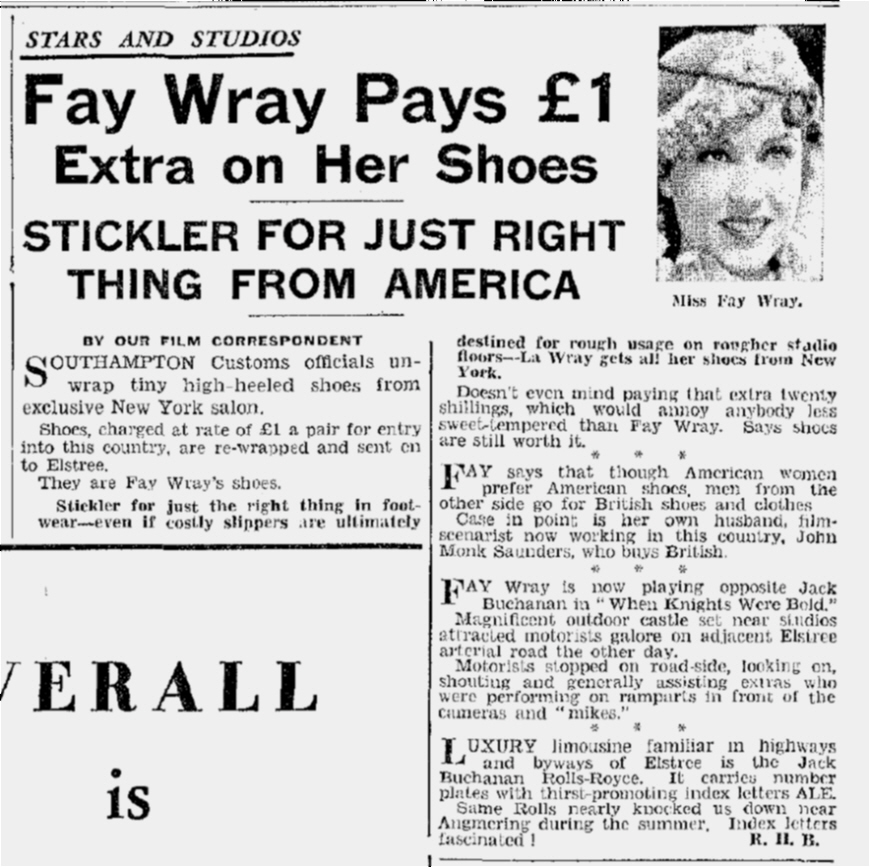 Daily Express (21 February, 1936 - p.4)

ANYTHING this local farmyard product has it owes to the presence of Jack Buchanan.
I don't know whose idea it was to make the famous Christmas kiddie-comedy into a musical talkie. But, granting the premise that it had to be, and nobody could do a thing about it, Jack was the man to play Sir Guy de Vere.
He still has that easy-going charm which has steered him through many an ill-written scene without a tomato being thrown. He needs all of it here.
The producers of the film have gone to a lot of trouble and expense to make it what they doubtless regard as cinematic. That is to say that, blanched with terror of critical too-much-dialogue onslaughts, they have added a lot of scenes not in the play, in which people rush about a good deal (injecting action).
They start off with a scene in Poona, introduced by a map in case you thought it was just a new American abbreviation of piano-tuner.
Then there are big fight scenes showing the attack on the castle during the dream sequence, and an extremely peculiar procession of medieval knights on variously shaped bicycles. Apart from the stock "Gadzooks!" jokes, this is about the only attempt to capitalise on the possibilities here presented for rich anachronistic comedy.
In spite of its laudable effort to put more action into a fairly static play, the film script is a rare triumph of unimaginativeness.

___

The Times (24 February, 1936 - p.10)

LONDON PAVILION
When Knights Were Bold.—The trouble with the films in which Mr. Jack Buchanan appears is that they have no imaginative ambitions. It is obvious that in this musical version of the farce made famous by the late Mr. Bromley Challenor a lot of time and money have been spent on the dream sequences which show Sir Guy de Vere (Mr. Buchanan) back in the Middle Ages, but the only reflection they leave is that they are allowed to go on far too long and that if they are intended as satire on such films as The Crusaders they should have more point and venom. Lack of imagination again, and it is a thousand pities that Mr. Buchanan, who potentially has so much to give to light comedy, is content with films worthy of a player with a quarter of his talents. There are moments, especially at the beginning, as Sir Guy is finding exactly how difficult and feudal his relations can be, when the film breaks into something like freshness and invention—there is one good song which finished disappointingly soon. Miss Fay Wray takes the part of the Lady Rowena with a surprising and triumphant seriousness, but it is not enough, and When Knights Were Bold still leaves Mr. Buchanan in search of his film.

___

Evening Post (Wellington, New Zealand) (4 July, 1936)

TIVOLI THEATRE

With the coming of every Buchanan picture to the screen, the public are immediately on tip-toe with expectancy for some new, real song hits, and they will certainly not be disappointed in Jack's latest success, "When Knights Were Bold," which is the main attraction at the Tivoli Theatre. Two of the numbers which enhance the entertainment value of the film are "I'm Still Dreaming" and "Let's Put Some People to Work," sung in Jack's own inimitable breezy style. "When Knights Were Bold" gives an intimate glimpse of Buchanan's own favourite style of acting, as the producers, Capitol Films, gave him free rein in selecting the story for this, his first "World Standard" production, and he has chosen a mirthful mix-up, brimful of laughs, riotously funny situations, spicy interludes, and catchy songs. The exploits of a New York star reporter who assists the police in solving a mysterious crime, only to find himsslf in jeopardy, are vividly depicted in the second feature, "The Murder Man," starring Spencer Tracy, with Virginia Bruce, Lionel Atwill, Harvey Stephens, and Robert Barratt.

___

The New York Times (31 March, 1942)

THE SCREEN; Ancient Accident

By BOSLEY CROWTHER

The Little Carnegie Playhouse refuses to let cold turkeys lie, and again it has raided the ice-box for another relic from a British studio, which it is offering to local audiences as though it were just grabbed off the roost. You may rest assured it wasn't. It is all of six years old—this exceedingly moldy farce-comedy entitled "When Knights Were Bold"—and the only cleverness which it betokens is that of the exhibitors who have previously passed it up.

It is, to state it briefly, a pointless trifle, a minor vaudeville skit, in which Jack Buchanan, pretending to be an English baronet, has a difficult time comprehending the feudal posing of some pompous relatives. Then he gets conked on the head and dreams the time is 1400, which gives rise to such gags as the following - Halberdier: "What's afoot?" Buchanan: "Twelve inches, I think." And, after some aimless aping of "A Connecticut Yankee in King Arthur's Court," the time switches back to the present—or rather, to 1936—and Mr. Buchanan espouses the beautiful Lady Rowena, who is merely Fay Wray.

If the Little Carnegie is anxious to show none but British product, why doesn't it play in revival some really memorable films? We can think of two dozen British pictures such as "The Ghost Goes West," "South Riding," "To the Victor" and "Drums," not to mention the Hitchcock classics, which most certainly retain their appeal. Why expose a blunder which had better be forgot?

Ancient Accident

WHEN KNIGHTS WERE BOLD, adapted by Douglas Furber and Austin Parkes from the play by Charles Marlowe; directed by Jack Raymond; produced in England by Capitol Films. At the Little Carnegie Playhouse.
Sir Guy de Vere . . . . . Jack Buchanan
Lady Rowena . . . . . Fay Wray
Brian Ballynote . . . . . Garry Marsh
Aunt Agatha . . . . . Kate Cutler
Aunt Esther . . . . . Martitia Hunt
Cousin Bertie . . . . . Robert Horton
The Tramp . . . . . Moore Marriott

___

New York Post (31 March, 1942 - p.11)

Movie Talk
By Archer Winston

"When Knights Were Bold"
Opens at Little Carnegie

A Capitol Picture. Directed by Jack Raymond. Screenplay by Douglas Furber and Austin Parkes. From the play by Charles Marlowe.

THE CAST:
Sir Guy de Vere . . . . . Jack Buchanan
Lady Rowena . . . . . . . . . . Fay Wray
Brian Ballynote . . . . . . . Garry Marsh
Aunt Agatha . . . . . . . . . . Kate Cutler
Aunt Esther . . . . . . . . . . Martitia Hunt
Cousin Bertie . . . . . . . Robert Horton
The Tramp . . . . . . . . Moore Marriott

"The amazing thing," writes the Little Carnegie Playhouse in its current program, "is not that beleaguered Great Britain is continuing to turn out films, despite war-time difficulties, but that they can be so light-hearted and gay, so full of that irresistible spirit that says 'Yes' to life that must ultimately confound their enemies. An arch-typical example of this is Jack Buchanan's latest musical screen comedy, 'When Knights Were Bold,' etc."
One of the many things wrong with that statement is that the picture, now on view at the Little Carnegie, was produced in 1936, even before England had got around to appeasement. Moreover, the "light-hearted, gay, irresistible spirit" stems from one of the least appealing fountains of British comedy. To put it bluntly, this is a musty, moth-eaten vehicle which was not good even in its own day, which was six years ago. In 1922 the fable had a success in the silent films, and back in the dim days it was a success on the stage.
Exactly why the Little Carnegie Theatre feels called upon at this time to be exhuming old and inferior British pictures is a puzzle. It does not improve Anglo-American relations. It cannot enrich either British distributors or the American exhibitors. Possibly it is a method of keeping open one of the most pleasant little motion picture theatres in town. If that is the purpose, a program of the better British documentaries would serve as well and prove less excruciating to the audience.
As for "When Knights Were Bold," let us forget in the certain knowledge that another week will find it safely back in the can with no other runs in prospect. "Fighting The Fire Bomb" is also on the program. Now let us review what we have learned.

___

The New York Sun (31 March, 1942 - p.23)

The New Movie
_____

'When Knights Were Bold,' Dreary English Farce.
_____

By EILEEN CREELMAN.

Humor, even more than romance, is highly perishable. It differs so markedly in different countries that attempts to transport it are often disastrous. The Little Carnegie Playhouse now is showing one of these lesser disasters, "When Knights Were Bold." This is typical English musical comedy fun. In the United States it seems merely silly.
Jack Buchanan, British dancing star, sticks to comedy and a bit of singing in "When Knights Were Bold." In regulation London vaudeville style, he sees to it that no one misses the point of any joke, even if he has to bludgeon the audience into laughing at it. Yesterday afternoon an American audience failed to laugh even then.
Puns supply much of the comedy, such as there is. Mr. Buchanan plays an army officer returned to England from India when he inherits a castle and title. He finds some aunts and cousins awaiting him grimly at home. They are far from pleased that he has inherited. Only one cousin, a stuffy young person who tries to conceal her sense of humor, is even civil. The new Sir Guy carries on light-heartedly, even dreams of more romantic days, when chivalry was more than a word. The ending is quite as dull as the beginning and the middle, too.
"When Knights Were Bold" has all the evidence of age, as age goes in the movie world. The Little Carnegie attaches no date to the film. Costumes, dialogue and photography make the film appear to be 3 or 4 years old. Fay Wray, very pretty indeed, plays the stuffy young cousin.

There's a review of the film on Dave Sindelar's Fantastic Movie Musings and Ramblings site:

"The heir to an ancestral home returns from India to meet his family for the first time. He discovers they are all stiff and joyless, but he falls for his cousin, the Lady Rowena.You know, some of these movies really do leave me scratching my head when I try to decide whether they rightfully belong in the fantastic movie genres or not, and this is one of them. The basic plot of this musical-comedy certainly doesn't give any indication of having a fantastic premise, and for most of the movie I was wondering what would come up. However, the last third of the movie consists of a dream sequence in which our hero ends up in the middle ages and must defend the castle against an onslaught of invaders. It's here that the comedy really takes an anarchic turn, and the question becomes whether outrageous anarchic comedy qualifies as fantastic cinema. However, scenes in which the knights come riding in on bizarre bicycles, and a series of gags involving magnets both push this into the realm of fantasy, so I guess it does qualify to some extent. The movie itself is quite amusing and very British. Barry Fitzgerald and Terry-Thomas both appear somewhere in this movie, though I wouldn't be able to point them out."

I also came across the following in the William K. Everson Archive at the New York University. It's a copy of the programme notes for a showing of the film on September 28th, 1970 at the Theodore Huff Memorial Film Society:

Finally, in Fay Wray's autobiography, On The Other Hand, the film is mentioned in the following passage:

"A second film with Jack Buchanan was produced by Herbert Wilcox, who arranged the very best contract I ever had. It was totally uncomplicated, not a 'whereas' or 'in the event' or any kind of legal phrasing. All on one page, it stipulated salary and billing only. Jack, of course, was to have billing over me. When the film, When Knights Were Bold, was finished and was about to be shown in Piccadilly Circus, Vincent Sheehan had come to town. He and John and I were en route to dinner at Boulestin's in the Strand. I saw workmen putting up lights on the huge marquee of the theater, my name on top of everything. I knew that was wrong but I enjoyed my dinner thoroughly. I had never had a French red wine before: Nuit Saint George. A lovely nuit for me! By the time we passed the theater on our return taxi ride, my lovely nuit was over. Jack Buchanan's name was up there where mine had been. I wondered if he, too, might have been dining in the Strand that night!"
| | |
| --- | --- |
| | |
| | |
| | |
| --- | --- |
| | |
| | Swedish poster for Bland Balde Riddersman designed by Gosta Aberg (1905-1981): |
| | |
| --- | --- |
| | |
| | Spanish posters for Frac en la Edad Media ("A Tailcoat in the Middle Ages"): |